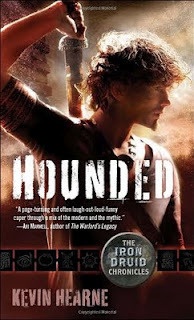 As I stated in my last post, I have started to re-read The Iron Druid Chronicles by Kevin Hearne. And everything is coming back to me, all of the things that I love about the series and the characters. I thought that I would share with you all some of those reasons, and encourage you all to pick up the series if you haven't already.
1. Oberon and Atticus' mental bond- Oberon is one of my favorite characters in the series. He is a dog and his joys are simple. But, listening to their banter is hilarious.
2.  Somehow Atticus borrows trouble left and right. Though it's always big trouble, it doesn't always come to pass immediately. It's never boring with him.
3.  There is a mixture of supernaturals that make an appearance, and somehow they all work together to make the story fun. You have a druid, the fae, witches, werewolves and vampires.
4. Familiar and comfortable- Each book feels as if you are spending time with longtime friends.
5. Nothing is ever what it seems. Just when you think you know a character they do something you never saw coming.
6. Throwability- I can't remember if it was  Hammered or Tricked,  but I do remember being so mad that I threw the book. But I had to know what was going to happen so I immediately walked across the room to retrieve it and finish reading.
7.  Good Times- each book is fun to read. Regardless of what is going on, you can count on humor, never-ending danger and sausages to get you through.
In all seriousness, this is a fun series. And it is well worth your time. In fact, this is the perfect time to start as the final book is due out in April of 2018!
Always Shine!