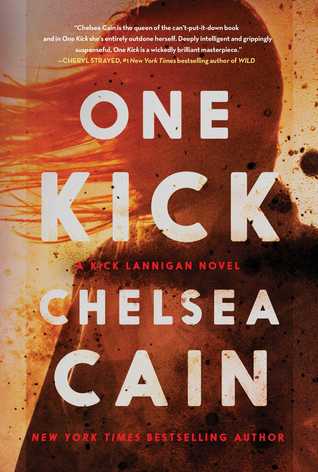 One Kick by Chelsea Cain
Kick Lannigan #1
309 Pages –  Adult Fiction, Crime Thriller, Series
August 19, 2014 – Simon & Schuster
Facebook: Yes
Twitter: Person of Interest @Chelseacain
Source:Edelweiss
I was given a digital galley, free, in exchange for my honest opinion.
Kick Lannigan, 21, is a survivor. Abducted at age six in broad daylight, the police, the public, perhaps even her family assumed the worst had occurred. And then Kathleen Lannigan was found, alive, six years later. In the early months following her freedom, as Kick struggled with PTSD, her parents put her through a litany of therapies, but nothing helped until the detective who rescued her suggested Kick learn to fight. Before she was thirteen, Kick learned marksmanship, martial arts, boxing, archery, and knife throwing. She excelled at every one, vowing she would never be victimized again. But when two children in the Portland area go missing in the same month, Kick goes into a tailspin. Then an enigmatic man Bishop approaches her with a proposition: he is convinced Kick's experiences and expertise can be used to help rescue the abductees. Little does Kick know the case will lead directly into her terrifying past…
 My Thoughts:
Wow! in one word, that is how I would have to describe this book. I wasn't really sure what to expect, I assumed that it would be good. But I didn't know that I would b so captivated with this story. First, I want to say that it feels awkward to say that I really enjoyed reading this book. The subject does not lend itself easily to enjoyment.  It deals with some pretty dark and sadistic characters, as well as some flawed and human ones. 
Kick, who was once a victim has now become a survivor. Though her nightmare and abduction is physically over she lives with the emotional scars of fear and confusion every single day. She has chosen to do this by learning how to fight, with her hand, with knives and with guns. She is no longer a victim, but the years of abuse she endured has left its mark on her 
Bishop is a mystery. Though some of his layers begin to get peeled away, there is still so much more that we don't know about. I wouldn't say that he is the good guy in this, though he is not one of the creepy pedophiles that they chase down. I am still confused as to why he approached Kick the way that he did, what was he trying to prove? For me, it would have made more since for Kick to refuse to work with him after that. He is a man that works for a very wealthy and powerful man that can pull all kinds of strings- strings that give Bishop more power than the FBI. 
Okay, to be honest the whole concept isnot one that translates into the real world. It would be nice if abuse and abduction victims grow up to become fighters and survivors that fight to save other children who endure the same misery that they have. But that's not what happens. But, Cain makes it believable in this novel. I found it nearly impossible to put this book down. I can't wait for the next book!!!
4 Stars ****
Always Shine!!!!!