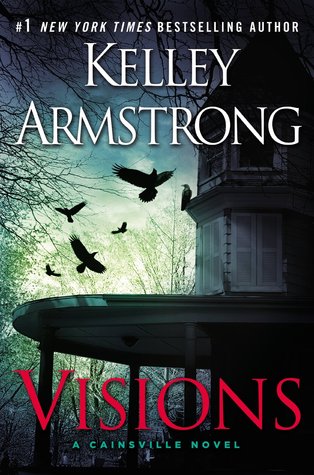 Visions by Kelley Armstrong 
Cainesville #2
August 19,2014- Dutton Adult
432 pages – Adult, Fiction, Paranormal, Urban Fantasy, Series
http://www.kelleyarmstrong.com/
Facebook: Yes
Twitter: @KelleyArmstrong
Source: Penguin First Reads
A digital copy of this galley was given to me, free, in exchange for my honest opinion. 
From Goodreads: Omens, the first installment in Kelley Armstrong's exciting new series, introduced Olivia Taylor-Jones, daughter of notorious serial killers, and Gabriel Walsh, the self-serving, morally ambiguous lawyer who became her unlikely ally. Together, they chased down a devious killer and partially cleared her parents of their horrifying crimes.Their success, however, is short-lived. While Olivia takes refuge in the old, secluded town of Cainsville, Gabriel's past mistakes have come to light, creating a rift between the pair just when she needs his help the most.Olivia finds a dead woman in her car, dressed to look like her, but the body vanishes before anyone else sees it. Olivia's convinced it's another omen, a sign of impending danger. But then she learns that a troubled young woman went missing just days ago—the same woman Olivia found dead in her car. Someone has gone to great lengths to kill and leave this young woman as a warning. But why? And what role has her new home played i/n this disturbing murder? Olivia's effort to uncover the truth places her in the cross-hairs of old and powerful forces, forces that have their own agenda, and closely guarded secrets they don't want revealed.
My Thoughts:
Wowsers Smowsers!! Again, I am so impressed with Armstrong. So far, I have not picked up a book by her that disappointed me.
We're back in Cainesville with Olivia, Gabriel, Rose, Patrick, the elders and another dead body. Yes, there's a body within the confines of Cainesville. Something that apparently doesn't normally happen.  More players get involved and more of the mystery of Cainesville and Olivia's past are unraveled. But not enough (at least not for me). Also, while the events  may in some way be connected to Olivia's parents' case, the connection is not made in this book.
Olivia begins to figure out what's going on in Cainesville.  But there are still so many questions. There are two sides that are vying for Olivia and her abilities. But, they're  both cloaked in shadows  and lies, so it's unclear if either side is good.  Right now it's not even clear if OIivia will choose a side. But there is more-so much more- to Cainesville, to her parents' case, to Olivia, to Gabriel and Ricky.
I liked the insight that's given about Gabriel. In Omens I was unsure of his motives. Now, while he may do things that are extremely questionable when it comes to Olivia, is intentions are honorable.  I am definitely  looking forward to the next book and can't wait for it to come out.
4 stars ****
Always Shine!