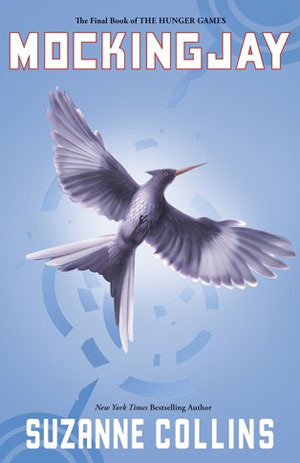 Mockingjay by Suzanne Collins 
Hunger Games # 3
August 24,2010- Scholastic Press
390 pages – Young Adult, Fiction, Dystopia
http://www.suzannecollinsbooks.com/
Source: Louisville Free Public Library
My name is Katniss Everdeen.
Why am I not dead?
I should be dead.
Katniss Everdeen, girl on fire, has survived, even though her home has been destroyed. Gale has escaped. Katniss's family is safe. Peeta has been captured by the Capitol. District 13 really does exist. There are rebels. There are new leaders. A revolution is unfolding.
It is by design that Katniss was rescued from the arena in the cruel and haunting Quarter Quell, and it is by design that she has long been part of the revolution without knowing it. District 13 has come out of the shadows and is plotting to overthrow the Capitol. Everyone, it seems, has had a hand in the carefully laid plans–except Katniss.
The success of the rebellion hinges on Katniss's willingness to be a pawn, to accept responsibility for countless lives, and to change the course of the future of Panem. To do this, she must put aside her feelings of anger and distrust. She must become the rebels' Mockingjay–no matter what the personal cost.
My Thoughts:
                In this, the final installment of the Hunger Games trilogy, everything is revealed. Everyone has changed, and again no one can be trusted. Katniss has accepted and stepped into the role of the Mockingjay, the symbol for the rebellion. But, she finds that she is yet again a pawn in someone else's games.  Honestly, I can't say what it was that I was expecting. Finishing the very last sentence only moments before I started writing my review, I have to admit that I am a bit disappointed. I guess a part of me was hoping for that elusive happily ever after. I wanted all of the deaths to be meaningful, for the good guy to triumph. I wanted it all to be more than . . . I wanted. . . I wanted so much that I just didn't get. That's not saying that Collins did a horrible job. A part of me feels that she may have rushed through this one a bit. But is that the truth or is it something that I'm saying to make myself feel better? The writing was once again engaging, excellent and velvety smooth. I just don't think that the ending that I wanted was possible in a world such as Panem. It wasn't possible after all of the deaths, hurt and actions that people had taken. I wanted Katniss to be with the one she truly loved, for Peeta to be happy, for Gale and the rest to find peace. But in the end, they only survive. I guess that has to be enough for now and later after the rebuilding happiness will come. Mockingjay was beautiful and hopeful, inspiring and action packed, heartbreaking, sad and broken.
4 stars ****
My Thoughts on the Series as a whole:
I re-read Hunger Games and Catching Fire to prepare not only for the reading of Mockingjay, but also for the arrival of the movie Mockingjay. I love this series, and I think it is great for middle grade readers (or those reading on that level). I would recommend it to book clubs and classrooms, there is so much that can be used as discussion starters. I am currently doing a group read of The Hunger Games with my kiddos in the after school program. While not everyone will be a fan of this, I have been surprised by the interest that this series has gotten from my non-readers.  This series has something in it for everyone. Even the love triangle that pops up (and that's saying a lot since I am avid hater of love triangles). I think that this is a great series for young adults (and fans of young adult fiction).
Series Rating: 5 stars *****
Always Shine!
Currently Reading: Carnal Acts by Sam Alexander
Next Series to Complete:  The Queen of Zombie Hearts (White Rabbit Chronicles #3) by Gena Showalter
Next Review Book: (Un)Dead by Trinidad Giachino