This is a afeature that I started a while ago and it dropped off somewhere between then and now. But I am bringing it back. The mini reviews will more than likely be books that I am reading for fun, nto for a challenge or review.
Glimmerglass by Jenna Black 
Faeriewwalker #1
May 25, 2010 – St. Martin's Press
294 Pages – Yong Adult, Fiction, Fantasy
Source: Borrowed from a friend
My Thoughts: Okay So I was not impressed with this. At best, it was meh reading and at worst it was a complete waste of time. While there wasn't anyone that I completely hated, there wasn't anyone that I truly like either.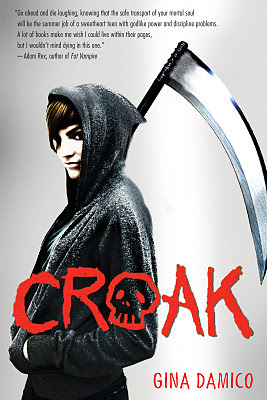 Croak by Gina Damico
Croak #1
March 20,2012 – Houghton Mifflin Harcourt
311 Pages – Young Adult, Fiction, Supernatural, Mystery
Source: Louisville Free Public Library
My Thoughts:  I absolutely loved this book!  I figured out who it was before the big reveal, but that's okay. I loved the characters and the way that I often felt like I was right there with Lex. It was funny, engaging and full of awesome.
4 stars ****
Star Crossed by Jennifer Echols 
Stargazer #1
February 26, 2013 – Pocket Books
384 Pages – Adult, Fiction
I thoroughly enjoyed this, except that I thought that this was young adult. It is very much not. Because she writes both young adult and adult, I think that it should be clear. But besides that minor confusion, I enjoyed this book. I loved the humor, the dirty minds and the catastrophe(s).
5 stars *****
Always Shine!