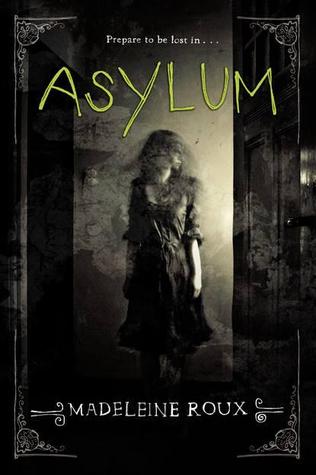 Asylum by Madeleine Roux 
Asylum #1
August 20, 2015 – Harper Teen
310 pages – Young Adult, Fiction, horror, paranormal
Source: Edelweiss
Disclaimer: A digital copy of this was given to me, free, in exchange for my honest review.
From Goodreads: Asylum is a thrilling and creepy photo-novel perfect for fans of the New York Times bestseller Miss Peregrine's Home for Peculiar Children.
For sixteen-year-old Dan Crawford, New Hampshire College Prep is more than a summer program—it's a lifeline. An outcast at his high school, Dan is excited to finally make some friends in his last summer before college. But when he arrives at the program, Dan learns that his dorm for the summer used to be a sanatorium, more commonly known as an asylum. And not just any asylum—a last resort for the criminally insane.
As Dan and his new friends, Abby and Jordan, explore the hidden recesses of their creepy summer home, they soon discover it's no coincidence that the three of them ended up here. Because the asylum holds the key to a terrifying past. And there are some secrets that refuse to stay buried.
Featuring found photos of unsettling history and real abandoned asylums and filled with chilling mystery and page-turning suspense, Madeleine Roux's teen debut, Asylum, is a horror story that treads the line between genius and insanity.
My Thoughts: Creepy as hell! When I finished reading this I still wasn't sure what was going on. And it's not over –  not yet.  I guess you could say that I was expecting a ghost story; something that was scary and just right for Halloween. I am not sure if I would classify this as a ghost story or a story of possession.  Does this tiny detail matter though? No, at least I don't think so.  There were some awkward moments. The first one being Felix. But, he was an awkward character to begin with so. . . I guess I should have expected that. The other awkward thing was how quickly  the friendship between Jordan, Abby and Daniel came together and then came apart. Yes, the program is only 5 weeks, but still! I guess it was how quickly it came apart that really bothered me. Other than that, I really enjoyed this one. Books that leave with more questions than answers always bother me. While this book was intriguing enough for me to want to get my hands on book 2 as quickly as possible, if I don't get the answers that I need I am not sure if I will continue past book 2.
4 stars ****
Always Shine!