Since my January Wrap-up post was a whole lot longer than I anticipated I wanted to do something different. Plus, if I had to do that every month I would just avoid it. I have been watching a lot of booktube videos and it seems that everyone is having similar problems. So I am taking a booktube idea and doing it here.  I will just talk about the last 5 books that I read as I finish them.
I think all of the books that I will be listing below will be have full reviews posted in the next week or so, so I won't talk too much about them .
 Staked By Kevin Hearne  Iron Druid Chronicles #8
I really enjoyed this one, and this has a full review coming. This is the second to last book in the series. While I am sad to be saying goodbye to this awesome characters, I am looking forward to marathoning the entire series. This was a series read.
 Flashback Four #1: The Lincoln Project by Dan Gutman 
This was a book that I had for review, from last year. So not only does it qualify for my review challenge but for the #readmyowndamnbooks challenge too. This will also have a full review. But I enjoyed this one as well, not the ending as much. But I wouldn't mind putting it in my son's library.
 
They Wrote the Book: Thirteen Women Mystery Writers Tell All ed. Helen Windrath 
This was for the Book Riot Read Harder challenge. I decided to participate late, after finding out that a lot of the books that I already wanted to read would fit into one of the challenge catergories. This was for the read a collection of essays, which I did not have a book for. But I was at the library and saw this one, and wanted to read it. it was very informative about the writers' processes and journeys. It was written as if you were having a conversation with the specific author. The other thing that I did enjoy about reading this was that each essay talked about something specific to the writing craft or process and that they were all different. This is a book that I will more than likely go back and add to my own library.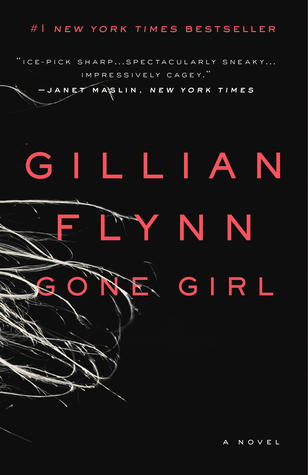 Gone Girl by Gillian Flynn 
I was actually going to suffer through this a bit more but I have too many books that I wante to read and that I need to read so I stopped at 10%. Now, I know that you can't get a very good idea about a book within the first 10%. At least not enough to say if it was bad or good. But I stopped because  it took me almost a week, maybe 4 days to read that 10%. With the movie that came out, all of the talk and the recommendations, I thought that this would be something that gripped me from the beginning. Instead, what I found was a guy that came off as an asshat and a woman that didn't sound so stable. The husband's perspective is told in the present day, and the wife's perspective is told in the past through diary entries. I wanted to read it, because I had heard a lot about it, and the twist was supposed to be amazing. Since I did borrow a digital copy, I may come back to it with  a print copy when I'm not on a roll with my reading and can take the time with a book that is a little bit slower to get into. If you want to try to convince me to try it again, talk to me in the comments.
 Merlin's Shadow by Robert Treskillard 
This will have a full review coming as well. It is a Netgalley review book, pre-2016. So it also doubles as  a#readmyowndamnbooks challenge read. I literally just finished reading this book and I enjoyed it. It is a dense book that required me to read it in chunks vs. all in one or two sittings. But it was worth it. I will probably wait to pick up the third book, which I also have for review, just because I would have to read that one in chunks as well.  It's loaded with history, and character development. But there's action, you have good guyd and bad guys, but it's just not a fast paced book.
Well, that's it for my first Last 5 post. And I think I prefer talking about books this way. I think that this works even with the books that will be reviewed since the reviews may be posted much later than when I write them (I still have a few older reviews to post). But as soon as I catch up with the old reviews, I plan on posting reviews as I finish instead of holding on to them. But this will give me the space and opportunity to talk about books that are simply challenge books or books that I've DNF'd but aren't review books. I will no longer be doing full DNF reviews, even combining them (unless they are old reviews) because it's one less post that I have to worry about. Happy Reading!
Always Shine!