Yay! I have finished 5 more books. But, before you ask, they were not full length novels. Here they are: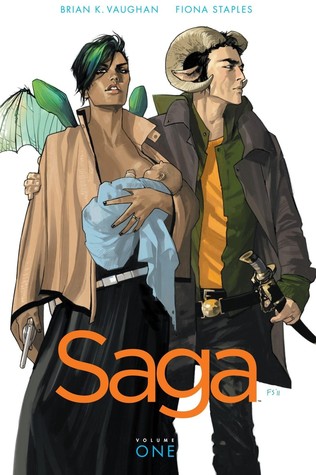 Saga Volume 1 by Brian K. Vaughan
This graphic novel was recommended to me by my friend Theresa. If you cannot tell by the cover image, it is about a mixed couple who has a kid. What makes this fun is the fact that they are two different species, fighting on opposite sides of a war. I love Alana's badassery and Marko's vow of peace that he tries to uphold. The graphic novel is narrated by Hazel their daughter. This was my introduction to graphic novels, and it is still my favorite. 
 Saga Volume 2 by Brian K. Vaughan
This was read for several reasons. (Actually volume 1 and 2 are tr-reads.) But I had this one for review, and it also fits into the Book Riot's Read Harder challenge. I like this one as well. It continues Alana, Marko and Hazel's journey as they try to outrun those who are trying to kill them. This time, they have guests and unexpected help.
  A Merciful Scar by Rebecca St. James and Nancy Rue
This is a review book from Netgalley, so I won't go into detail. But I did  enjoy it, it was a good story with a lot of moments that made me stop and think and feel. Even though I do not share the same condition as Kirsten or any of the other characters, I was able to empathize since it is something that the girls I used to work with had gone through.
 Henry Hodges Needs a Friend by Andy Andrews
This is a review book for Netgalley. It was cute and one that I would like to add to my son's library.
 D is for Duck Calls by Miss Kay Robertson
This is a review book for Edelweiss. It was cute and my son enjoyed it. This is another book that I would like to add to his library.
I am now at 10 books read for the month, including 2 re-reads.
I am also at 22 books into my Goodreads challenge (though Goodreads says 19 since it doesn't count re-reads) which puts me 13 books ahead of schedule.
I have complete 4 out of 24 tasks for the Read Harder Challenge.
I have completed 5 out of 12 tasks for Modern Mrs. Darcy's 2016 Reading Challenge
7 out of the 10 books that I've read this month are also part of the #readmyowndamnbooks challenge as well.
I am still doing good with staying on track with my reading goals. There are a few books that I anticipated finishing already, but I will get to them soon.
Always Shine!