I've been on a roll with graphic novels this month. They're quick and easy to read in one sitting. I can usually sneak one in between books or simply in the morning before my kiddo wakes up. I have come across some that were really good and some that were meh at best. Maybe one day soon I will do a post on my experience with graphic novels. But for now, I will say that if you have a reluctant reader in your life, graphic novels are a great gatewat book.
  A Distant Soil Vol 1: The Gathering by Colleen Doran 
This is one that  I had on my kindle for review from Netgalley. It's been out for a while and I'm a little late to the party. I am okay with that, especially since I didn't really enjoy it. I checked it out from my library, because I think graphic novels are much more enjoyable in print rather than digitally. But, I got lost in the pictures. I couldn't really tell who was who or if the character was playing both sides of the coin. I was excited after reading the introduction by Neil Gaiman, but that was where it ended as well.  DNF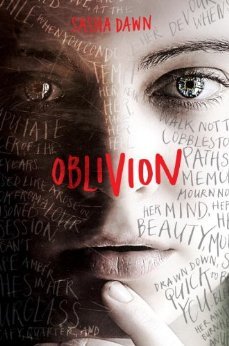 Oblivion by Sasha Dawn 
This is another book from Netgalley. My copy expired so I am just now getting around to getting it from the library. For the first 100 pages  I was all in, not it wasn't action packed or fast paced, but it was interesting. Then I continued and the beginnings of weirdness and a growing love triangle began to set in. And I hate love triangles. I often find them annoying at best, and a lazy attempt to build tension or conflict at worst. I have not encountered any that I enjoyed so I put this one down. DNF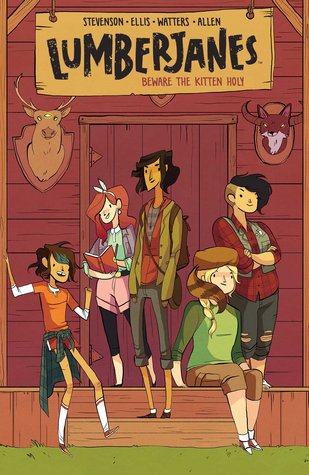 Lumberjanes Vol 1: Beware the Kitten Holy by Noelle Stevenson, Grace Ellis and Brooke A. Allen
Yes, yes I know. Everyone who has read this book has loved it. Not me. It was okay, maybe if I was younger I would enjoy it. But I thought it was alright, nothing to write home about. Not even sure if I will bother picking up the second volume.  2 stars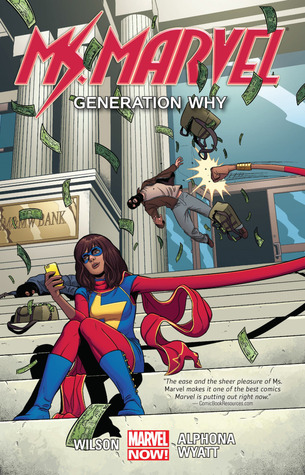 Ms. Marvel Vol 2: Generation Why by G. Willow Wilson 
I did like this one, not as much as the first one. I like the growth that is happening, and how the story is expanding. I am looking forward to the next one. 3 stars 
  Runaways Vol 1: Pride & Joy by Brian K. Vaughan 
I really like this one! It was fun, funny and adventurous. What would you do if you found out that your parents were villains? And that they were willing to kill you? It's interesting to watch how some traits that make villains dangerous are used by the kids to do good.  Brian K. Vaughan is also the author behind my favorite graphic novel series, so it's nice to see that he excels in other areas as well. 4 Stars. 
Well that's it for now, hopefully my next five will include some novels as well. But in my opinion, read however you can!
Always Shine!