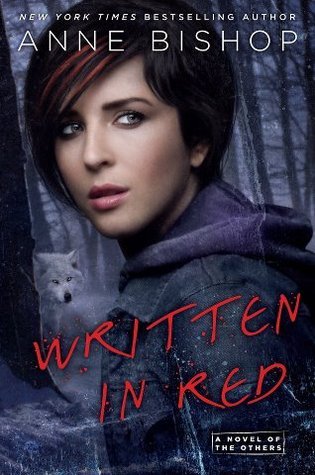 Written in Red by Anne Bishop 
The Others #1
March 5, 2013 – Roc
487 Pages – Adult, Fiction, Fantasy, Paranormal, Urban Fantasy
Facebook: Yes
Purpose: Personal Library, Bookshelf Challenge
From Goodreads: No one creates realms like New York Times bestselling author Anne Bishop. Now in a thrilling new fantasy series, enter a world inhabited by the Others, unearthly entities—vampires and shape-shifters among them—who rule the Earth and whose prey are humans.
As a cassandra sangue, or blood prophet, Meg Corbyn can see the future when her skin is cut—a gift that feels more like a curse. Meg's Controller keeps her enslaved so he can have full access to her visions. But when she escapes, the only safe place Meg can hide is at the Lakeside Courtyard—a business district operated by the Others.
Shape-shifter Simon Wolfgard is reluctant to hire the stranger who inquires about the Human Liaison job. First, he senses she's keeping a secret, and second, she doesn't smell like human prey. Yet a stronger instinct propels him to give Meg the job. And when he learns the truth about Meg and that she's wanted by the government, he'll have to decide if she's worth the fight between humans and the Others that will surely follow.
My Thoughts: I wasn't really sure what to expect from this book. I was only hoping to enjoy it, and I did – a lot. This is a shove-this-down-your-friend's-throat kind of book. I love this book. It had me cheering out loud, curious and emotional. The world of the Others slowly unfolds as you get deeper and deeper into the book. The Others is everything that is not human. Though there are some who wear the human skin, they would never be mistaken as human. They are wild, they are violent and the literally carry the life or death of humans in their hands. As to be expected,  there is an us against them vibe to this story. But, humans being naive at times, stupid at other times, and selfish for the most part, makes you root for the Others in a way that may be unnatural (who would root for the end of their species?!) but completely familiar.
This is the first book , but the writing and character comes from the pen of someone with much skill and loads of talent. Being the introduction to the characters and this world, there is so much to be discovered. Initially, the story bbegins with the mystery of Meg Corbyn, what she is and who she is. She isn't quite human but she's also definitely not Terre Indigene. When the Others discover that she's a cassandra sangue, or blood prophet, they understand better who she's running from. But it's too late. By that time, though, they have claimed her as one of their own. With new trouble brewing in the west, Meg has changed their lives in more ways then they fully understand. I could go on and on. But I won't. This was well written, the characters were engaging and diverse, the plot had enough build up, tension and relief. I am just going to go pick up the next book and be grateful that I don't have to wait for it to come out.
5 stars *****
Always Shine!
*I still haven't read the second one :(*