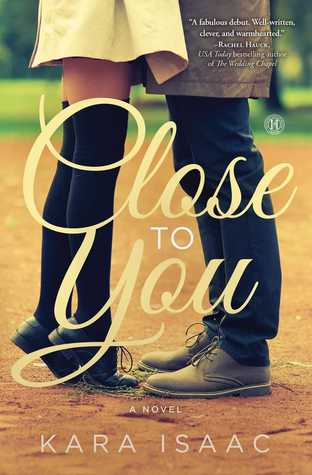 Close to You by Kara Isaac
April 26, 2016 – Howard Books
384 Pages – Adult, Fiction, Contemporary, Romance, Christian/Inspirational, Humor
Facebook: Yes
Twitter: @KaraIsaac
Purpose: Review, Howard Books
I was given a copy of this book, free, in exchange for my honest opinion. 
From Goodreads:  A disgraced scholar running from her past and an entrepreneur chasing his future find themselves thrown together—and fall in love—on a Tolkien tour of New Zealand.
Allison Shire (yes, like where the Hobbits live) is a disgraced academic who is done with love. Her belief in "happily ever after" ended the day she discovered her husband was still married to a wife she knew nothing about. She finally finds a use for her English degree by guiding tours through the famous sites featured in the Lord of the Rings and The Hobbit movies. By living life on the road and traveling New Zealand as a luxury tour guide, Allison manages to outrun the pain of her past she can't face.
Jackson Gregory was on the cusp of making it big. Then suddenly his girlfriend left him—for his biggest business competitor—and took his most guarded commercial secrets with her. To make matters worse, the Iowa farm that has been in his family for generations is facing foreclosure. Determined to save his parents from financial ruin, he'll do whatever it takes to convince his wealthy great-uncle to invest in his next scheme, which means accompanying him to the bottom of the world to spend three weeks pretending to be a die-hard Lord of the Rings fan, even though he knows nothing about the stories. The one thing that stands between him and his goal is a know-it-all tour guide who can't stand him and pegged him as a fake the moment he walked off the plane.
When Allison leads the group through the famous sites of the Tolkien movies, she and Jackson start to see each other differently, and as they keep getting thrown together on the tour, they find themselves drawn to each other. Neither expected to fall in love again, but can they find a way beyond their regrets to take a chance on the one thing they're not looking for?
My Thoughts:  Okay, to be honest, I usually avoid romances, especially for review. I'm okay if a romance happens in the story, but I tend to hate it if that is the sole purpose of the story. So, I am not even sure why I requested this book. I mean I do, it mentioned Tolkien and New Zealand, but I can't say I expected great things from this book. I actually thought that I would be a little annoyed in places. But I wasn't. This turned out to be my favorite 2016 read,so far.
Allie and Jackson find themselves in similar situations, recovering from broken hearts and their lives being turned upside down.  They are not aware of this, but the reader is in on this inside of information. Yes, this is one of those stories where if the characters would get out of their own way and communicate with each other the situations that they find themselves in would play out differently. But that also means that some hilarious moments would never happen.
I could go on and on about how much I enjoyed this story, the interaction between Allie and Jackson. But that would take forever. I liked that we got to see how Allie interacted with the other characters, and while they were always in the background or an afterthought sometimes, the glimpses that we got of them were memorable. I am still not sure if Louis was a real person or an angel masquerading as a person. He was everywhere and knew everything. Or maybe Jackson was right, Louis had connections that were better off not mentioning. (Just kidding!)
The other thing that I really really enjoyed about this story was Allie and Jackson's faith journey. They came  to their faith and belief in God at different times throughout the story, and they live it out differently. Each approach is unique to their characteristics and it feels like their faith is authentic and genuine. It was also not overbearing.
Sometimes you come across books at just the right time, and that is what I think happened with this one. I enjoyed reading this, and it left me laughing out loud and ahhing at the romance. I highly recommend this.
5 stars *****
Always Shine!