I think that these last few books have taken forever to get through. Either that or my reading has slowed down a whole lot. But, I got through some good books.
Could a Penguin Ride a Bike? and other questions by Camilla Bedoyere 5 stars. This is a review book, via Edelweiss, that I requested for my son. He enjoyed the first one about sharks and this one as well. It was cute, matching funny questions with interesting facts. This is something that I would like to collect for him. I also think teachers with young students would enjoy this.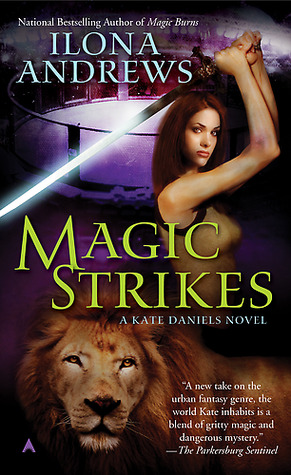 Magic Strikes and Magic Bleeds by Ilona Andrews. 5 stars (both). I read both of these or my series completion challenge. When I started this series, I thought that it was okay, good even. I didn't think that it would grow on me as much as it has. I had some other obligations come up, but I am definitely looking forward to getting back to this series.
Greywalker by Kat Richardson. 4 stars.  I read this as part of my bookshelf/ read my own damn books challenge. I ended up listening to the audio book version and really enjoyed it. This was a strong start to a series, and I will probably listen to the rest of the series on audio as well, and then when I am able to get the entire series in book form I will go back and read it. This was a new take on the paranormal world and I really liked it. Looking forward to what comes next.
Hawkeye Volume 1: My Life as a Weapon by Matt Fraction, DNF.  I picked this up from my library when I heard about it. I thought that I would like it, since Hawkeye became one of my favorite Avengers character. Turns out I didn't. Maybe this is a character that I don't want to know much about, especially if he is like the character in this graphic novel.
What are you reading?
Always Shine!!