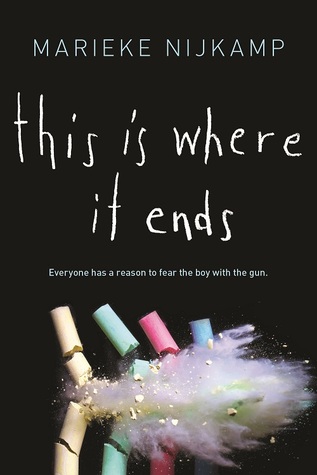 This is Where it Ends by Marieke Nijkamp
January 2, 2016 – Sourcebooks Fire
285 Pages – Young Adult, fiction, contemporary
Facebook: yes
Twitter: @mariekeyn
Purpose: Review
Source: Netgalley, Sourcebooks
I was given a digital copy of this title, free, in exchange for my honest opinion. 
From Goodreads: 10:00 a.m. The principal of Opportunity High School finishes her speech, welcoming the entire student body to a new semester and encouraging them to excel and achieve.
10:02 a.m. The students get up to leave the auditorium for their next class.
10:03 a.m. The auditorium doors won't open.
10:05 a.m. Someone starts shooting.
Told from four different perspectives over the span of fifty-four harrowing minutes, terror reigns as one student's calculated revenge turns into the ultimate game of survival.
My Thoughts: Wow! This book left me breathless and heartbroken, but also hopeful. School shootings is always a scary topic, mainly because they happen way too frequently for comfort and almost everyone has been touched by it in some way. As with suicide, those who are left in the aftermath or who are outsiders to the event, school shootings leaves the world asking questions. The number one question being "Could I have stopped this?"
But what Nijkamp shows is that a shooting involves a whole lot more people than just the shooter. A shooter rarely wakes up one morning and decides to bring a gun to school to exact revenge on those around them. There is more to it than that. She was able to show this without really being in the shooter's head at all. That is one thing that I find the most intriquing, very little time (if any) is actually spent inside the shooter's head. What we learn about him comes from the people that interacted with him directly, mostly in some negative way or from what the shooter says to the other characters.  We have to assume that the character's perspective and the shooter's dialogues tells us the truth of who he is. But, I kind of hope that they're wrong. If not, than they were all pretty naiive to not expect something like this to happen.  And yes, I can say that, because as a reader I know all of the secrets and truths that each character had but chose to keep to themselves. And it's easy to come to this conclusion when you don't already have a gun pointed at you and you have enough information and experience. It's called the outsider's perspectives.
Besides getting to know the shooter, we are also given the opportunity to get to know the other characters. And they are a diverse group. Heroism comes in unexpected places. But so does cowardice. Not everyone can be brave. But you would think that someone who is closer to the shooter would be braver, instead I found her to be selfish and a bit of a coward. I don't think that the author intended her to be portrayed this way, but that's the way she came across to me.
I was impressed by this book on so many levels. But this one is worth mentioning directly. This is the work of a debut author. This is Nijkamp's first published book. And it is written as though she has been in the game for a while. Well written, authentic characters and engaging plot. Flawless. I have never said all of that about any other debut author's work.  And yes, I know that just because it is the first published work does not mean this is the first book she's ever written (for all we know it could be her hundredth attempt at a book, this same story even). But it is the first in what I hope is long long publishing career.
5 stars *****
Always Shine!