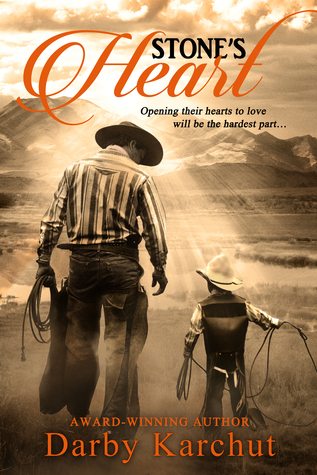 Stone's Heart by Darby Karchut 
With a sigh, Linny Van Horn dropped the last box of clothes in the corner of her new bedroom. In her new house. In a new town. In a new time zone. She was all about new. Yeah, new was good.
It really isn't a secret that I am long time fan of Karchut. I stumbled across her doing a blog tour (I believe) review for her first book,  Griffin Rising.  I have not been disappointed with anything of hers that I've read, and I've read all of her books. In fact, one of the reasons that I was excited about starting this one was because I knew that this was going to be a good one. And, I needed a good book to recover from the poor one that I had just finished.
This story was warm and familiar in the best of ways. Linny Van Horn has had her heart broken and she has moved to the opposite side of the country to heal from it.  Stone Wheeler is using his work to run away from the grief of losing his wife, and taking care of his son Beau. Their meeting is like two worlds colliding and meshing together into perfect grooves that were made just for this purpose. Their story was burdened with the hurt of each of their pasts, but it wasn't bogged down with the weight of miscommunication or secrets that would eventually come to light. I appreciated that, a lot. It's a good thing too; their fiery personalities got them into enough trouble on their own. In the midst of that is Beau, the little boy that brings these two together and melts everyone's heart. This is another story where Karchut explores the relationship between fathers and sons, as she often does in some form with all of her stories. But Beau and Stone's relationship is one with a deep-seated love and joy amidst the sorrow. It's beautiful and full of hope that all is not lost.  Along the way to each other, Linny and Stone have their own faith journey. And not a superficial journey where characters attend church and pull selective meaning from their time there. They talk with God, they ask questions, they interact with the pastor and the pastor's wife. It's nice.
This book was as comforting and enjoyable as a tall mug of hot cocoa. Sweet, rich and warms the inside. This story really is a simple, sweet romance. But it's also More. Karchut has proven once again why she is one of my top D.E.A.R. authors. I love all of her books and all of the characters that she has introduced to the world.  If I had to admit it, this, Stone's Heart,  is my favorite.
Rolling over to her side, she snuggled deeper under the covers and closed her eyes with a sigh. "Thank you, Lord," she said in the dark as he headed for the door, "for second chances."
5 stars *****
Always Shine! 
Stone's Heart is currently available.
You can connect with Darby Karchut on her website, facebook and twitter.