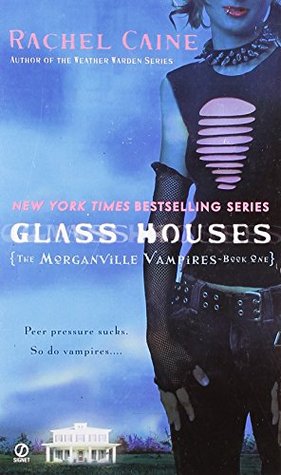 Morganville Vampires #1
On the day that Clare became a member of Glass House, somebody stole her laundry.
Clare Danvers is a sixteen year is smart and never fit in with her peers. She has graduated high school and is starting college. Instead of allowing their teenage daughter to apply for the colleges that she wants, colleges that were too far from home, her parents allow her to attened Texas Priarie University. Just like high school, but more deadly, Clare is tortured by the resident mean girls and her clique. After being shoved down dorm steps, Clare has had enough and she looks for off-campus housing. Answering an ad for a roommate, Clare meets Eve, Shane and Michael and is able to stay at the Glass House. Soon, she discovers the truth about the town of Morganville, and her trouble has just begun.
I was introduced to Caine's writing through her Weather Warden series. I enjoyed it, and started collecting her books. I have the first eleven books in this series, but I am just now getting to read it. I still need to catch up on the other series, but I dove in with this one because…. I had moved it to a stack of books that I wanted to read and then rehome. I figured that since my taste has been changing that I would not really enjoy this series. But this book surprised me, A LOT. Enough that I am not sure that I will be getting rid of this series. And now I want to devour all of the books right now.
Clare is a high school age girl with college level intellect. This gets her in trouble with resident mean girl, Monica. Shane is the classic lady's man with a wicked sense of humor. Eve is your typical angry goth girl coffee shop barista. Michael is the big brother of the group who carries an astounding secret of his own. They live in the Glass House, which is a protected house/mansion in the middle of Morganville, a town run by vampires.
This was a fun, quick read. Quick as in it would have taken me a few hours to read it if I didn't have a  little destructor running around and other responsibilities. One of the things that I really enjoyed was that the vampires are real monsters. Yes, some blend into the regular people. Most are obviously vampires and come with power and violence. While there are some fangbangers mixed in with the rest of society, most of the public are not looking to interact with them. I enjoyed getting to know the characters, and started to care what about what happened to them.
Yes, the mystery was a bit predictable, but it was still engaging. Yes, the ending was a cliffhanger. But it was really setting up the problem for the next book, this book's storyline was resolved. This was a great start and I am looking forward to seeing how everything turns out.
4 stars ****
"Do they sell stakes at Home Depot here? Clare asked. Shane and Eve looked blank. "Dumb question. Never mind."
If you want to know more about Rachel Caine and her books, check out her website, facebook or twitter.
Always Shine!