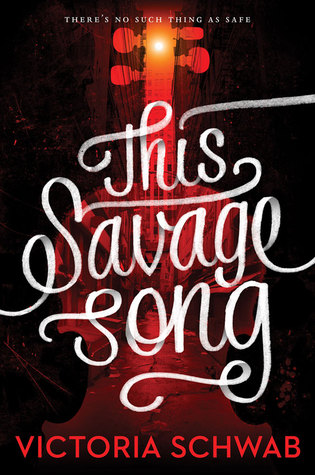 This Savage Song by Victoria Schwab 
Monsters of Verity #1
The night Kate Harker decided to burn down the school chapel, she wasn't angry or drunk. She was desperate.
Kate is a human whose father controls the north of V-City by  controlling the monsters and offering protection to those who pay. August is a monster whose adopted father controls the south of V-City, by having three of the most powerful monsters on his side. The truce that has held the peace for so long after the world was torn into chaos is threatened. Both Kate and August will learn what it means to be humans, and that monsters aren't all made of shadows and claws.
Okay, so I really wanted to like this book. I did. I was excited because most of the booktube channels that I watched was raving on and on about Schwab and her previous books. So, when I had the opportunity to get a review copy, I snagged it. I put off reading it, wanting it to be close to publication as possible. But in the way life goes, I missed the pub date. But, I picked this up back in August. Towards the end of August, but still August.
Yes folks, it has taken me that long to get through this book. A part of that is because it was on my kindle. Another part was because I was taking a break from review books to just read for fun. But a disappointing part was because the book wasn't all that interesting. I got excited when I saw a few reviews that said TSS was slow in the beginning but picked up towards the middle.
What they should have said was that it starts to pick up around page 250, (which is a little past the middle of the book) and that it doesn't kick up until page three hundred and something. With it beingonly 427 pages, that's a long time for a book to get started.  In fact it wasn't until page 323 where I was certain that I wasn't going to mark it as DNF.
Here's the good news, the ending was very very good. Things happened that I didn't expect. While there wasn't a happily ever after, I do believe the story came to a nice resolution, while also setting up the rest of the series. But, if you are like me and just don't have time for books to take forever to get to the meat of the story, you could read it as a standalone.
Here's the bad news. While the ending partially redeemed itself, and there are parts that I did enjoy, the longevity of the novel and the excessiveness of the irrevelant words and scenes has turned me off of Schwab's writing and I doubt if I will continue with this series or read anymore of her work.
2.5 Stars
She turned back to the window, and looked ouy toward the city , and the Seam. her fingers drifted to the still-cracked glass, and against the dark  she drew a star, and then another, and another. August wrapped his arms around his sister's shoulders and watched her fill the sky.
A copy of this title was given to me, free, in exchange for my honest opinion. 
If you want to know about Victoria Schwab or her books you can check out her website, Facebook, or Twitter.
Always Shine!