I have no idea where this hashtag started. I have some booktubers do friday reads videos and thought that this was something I could jump in and do. So hear I am. Plus I think that this is a great way to keep in touch here on my blog, since not every book will be reviewed.  (Man, it so freeing to not feel like every book is one that I have to review.)
I am currently reading two (technically three but …) books.  While I wish that I could be optimistic that I will finish one or both this weekend, I probably won't. Here they are: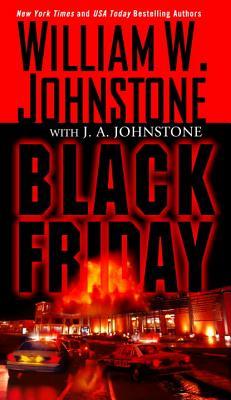 Black Friday  by William W. Johnstone with J.A. Johnstone
(Click title for Goodreads Summary)
I don't remember where I heard about this book, but the summary completely sold me and I immediately requested it from the library.  I am half way through it, and I am liking it. This is about a terrorist plot that takes place at a huge mall on the busiest shopping day of the year, black friday. It's pretty easy reading, though a lot of the first part is mini glimpses into various characters. You get to see how everyone that shares their POV winds up at the mall on black friday. Some of the characters have the opportunity to leave before the chaos starts, but for one reason or the other they stay. Knowing what's coming, it's heartbreaking at times and infuriating the next. I have reached the point where the action takes off.  I am looking forward to seeing how Johnstone handles this. This premise is eerily familiar since I remember having a conversation about this very thing with a friend last year.
Psst. If the name Johnstone sounds familiar, you may know him as western author. I remember going to the library and getting Johnstone's westerns for my fiance's dad.  I had no idea that he also wrote thrillers. But now that I do, I will definitely be checking them out.
Ancilliary Justice by Ann Leckie 
Imperial Radch #1
(Click title for Goodreads Summary)
This is a two for one special. This is the next book that I am reading with a friend as we work through the list of 100 best Science-Fiction/Fantasy  written by women. But I also discovered this is a review title that I recieved from Netgalley a while ago. ( I am working on catching up on those titles.) I don't really know how to explain what this book is about, as it is rather confusing. To be quite honest, I was going to dnf this one, but I got to page 100. Since I had dnf'd two other books from this list, I wanted to push myself a bit further before throwing in the towel. I am glad that I did. This book is confusing for multiple reasons. First, you  don't really know who or what the narrator is. It explains everything, but not in a logical way. At least that is my opinion. It also jumps between present and past. By time I had made it to page 100, I was used to this flip flopping enough to put the story together. This is a space opera-ish science fiction book. So if that's not your thing, you may not enjoy it.
What's Next?
I don't really know what I am going to pick up next. I have  quite a few  library books that I need and want to read. As well as two series from my own bookshelf that I am working through (Morganville Vampires and House of Night). There are also a ton of kindle books that I want to work through since my kindle has decided to start working again. I know that I have decided that I am going to focus on my own collection in 2017, getting books from the library that will help me complete series that I am actively reading. But I don't want to put off too many of my own books since I still need to clear space. I am debating on picking one kindle book, one review book and 1 bookshelf book to focus on each month. Kind of like a TBR but one that is not so strict. So,. in short, I have no clue what I will pick up. But I will enjoy the two books that I am reading and go from there.
Always Shine!