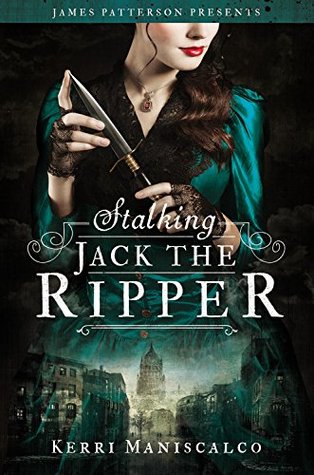 *DNF* Young Adult Review: Stalking Jack the Ripper by Kerri Maniscalco
Source: Library
Purpose: Personal Choice
*DNF Review*
I typically don't do DNF reviews for books that I pick up on a whim. I reserve DNF reviews for actual review books, and even then, I try my best to finish them. But, I feel that I need to put my voice into the mix for this book. I picked this up because everyone was raving about it, it's got good ratings on Goodreads. Jack the Ripper and forensics are buzz words for me. I read the summary and thought, "Yes! I'm in!" And then I started reading it. Disappointment soon set in. Immediately. I followed my 100-page rule and then gave it another 25 before I set it aside. As far as the mystery, it was interesting and I am curious as to how it all works out. I suspect that it's either the brother or the father. (But those two are so super-obvious that if it is one of them I'd be even more disappointed). There is a part of me that is a but curious about how it all works out.  The two main reasons that I am dnfing this would be 1. The romance and 2. The main character, Audrey Rose.
The romance: it's instant. As soon as Audrey Rose hears Thomas' voice she's in love. And that is just stupid.  Thomas Cresswell swings between being overconfident and annoying to creepy and annoying.  I am sure that they end up together but I find it rather disappointing.  The main character: Audrey Rose is obviously not doing what "normal" girls her age are doing in this time period. But she is choosing to follow this path, so she should be okay with it. There's no reason to beat this fact dead into the ground every couple of pages. I think that if she was truly confident in herself her interactions with the rest of the characters, especially Thomas, would have been a lot less annoying.
There are a lot of positive reviews for this book, and I am not sure why. But I wanted to share my opinion so that if nothing else, the next reader is forewarned.
DNF Review