18I had planned on posting this last week, but I hadn't finished very many books so I waited. I have fallen behind with my reading, but that's okay. I thought that I would be on track with my reviews and everything, but I've read a few duds. I started and DNF'd a few. There is one that I am still reading, but I plan on finishing it this week. But this is what I have read so far…..
Dead in the Family by Charlaine Harris 
Sookie Stackhouse # 10
Purpose: Complete a Series
4 stars 
Honestly, I wasn't sure what to expect. Especially since I wasn't too impressed with the last book. But, surprisingly, I enjoyed this installment. Yeah, a part of me is glad that I am coming to the end of the series. But with Dead in the Family everything and everyone seems to be connected. All of the issues that came up are family related. Eric has to deal with his maker and brother. Bill is reunited with an old family -like friend, and is able to address his human family. Sookie is mending fences with her brother  and cousin, as well as other family. Even the werewolves have to deal with internal issues.  But even in the background, a storm is brewing. I can't wait to see how it all plays out.
Purpose: Review/Buddy Read
4 stars 
Full Review on the blog
Purpose: Read an Author's Backlist
2 Stars 
I really wanted to like this book. Henry is an author that I respect because of all the work she puts into her books. I have also enjoyed the books that she co-written by Lis Wiehl. I did enjoy her debut book Shock Point. But this one was a bit disappointing. It was a short book, but it still took a while for me to get through. It was slow and boring. The entire situation with Ellie and the FBI was unrealistic and Henry didn't make a believer out of me. Ellie and Coyote gets an undeserved happily ever after. And though she hardly knows him, her experience with the lynx has convinced  Ellie that she loves Coyote. Umm….no.
City of Wolves by Willow Palecek 
Purpose: A Random Pick
3.5 Stars 
This was a nice quick read. It was super short, and for the most part the shortness worked in its favor. Drake appeared to be operating on insider information that we, as readers, are not privy too. This made following the murder mystery harder to follow. This also means that we have to trust the conclusions Drake comes to explicitly. But, I did enjoy this story.
Bradford Sisters #1
Purpose: PW Review
3 Stars 
Dead Reckoning by Charlaine Harris 
Sookie Stackhouse #11
Purpose: Complete a Series
3 Stars
Okay, so there's only 2 more books left in the series. I have mixed feelings about this. Once again death and drama surround Sookie. it's her reaction that I find annoying. This time she plotted and planned and knew that it had to be done.  And yet, she is reacting as if this is the first time she's had to face it. At this point, if she can't handle it she need to cut ties and be done with it. But we also learn more about Sookie and her ties to the fairies. It is an interesting history, and I am curious to find out what the fairies are up to.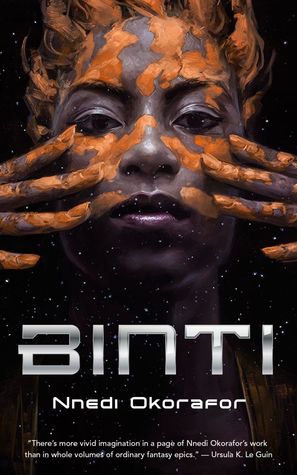 Binti By Nnedi Okorafor 
Binti #1
4 Stars 
Review will be on the Women of Science Fiction and Fantasy Blog