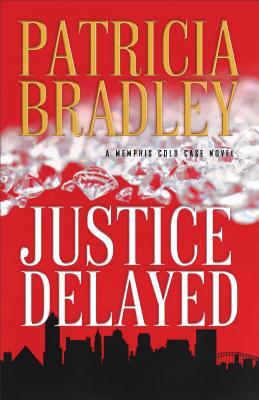 Justice Delayed by Patricia Bradley
Memphis Cold Case #1
Fleming H. Revell Company – January 31, 2017
Purpose: Review
Source: Revell Reads Review Program
 I was given a copy of this title, free, in exchange for my honest opinion.
2.5 stars
Andi Hollister is a TV crime reporter for a Memphis news station. Detective Will Kincaide has recently been promoted to the newly established Cold Case Unit. Eighteen years ago, Andi's sister Stephanie was murdered. Eighteen years ago, Will's cousin, Jimmy, was convicted of Stephanie's murder. Today, in less than a week, Jimmy is scheduled to be executed. Today, he receives a letter stating that he did not kill Stephanie. And so the story begins.
I wanted to review this book because Bradley keeps popping up on my book radar. I really wanted to like this book, and for the most part I did. Well, it was just okay. There are some things that stuck out to me that I had a problem with. And I guess I should start with them.
First, Will was not the only detective investigating this case. There was his supervisor/partner in the Cold Case Unit, Lieutenant David Raines, and Brad Hollister, a homicide detective. Brad is investigating a case that may or may not have anything to do with Stephanie Hollister's homicide. Andi is also investigating her sister's murder, though she is doing so under the guise of reporting and making a documentary. So in total, you are following four different people as they investigate the same case. Some of it is them trying to cover as many possible bases as possible since they have such a short amount of time. That is not the problem. The problem is that they don't talk to each other.  If they had talked to each other, they may have been able to make connections a lot sooner. Characters (Andi) would not be put into unnecessary danger or accidentally reveal information to the wrong people.
Something else that bothered me was the fact that none of the detectives were suspicious of anyone that they talked to. I understand that they were talking to people that were prominent figures in the community. They question each person, again not discussing what was discovered with each other, but it seemed to be more of going through the motions than real investigating. I would think that as detective that they would be more suspicious, or at least curious about the people that they talked to. But, no, they detectives and Andi took everything that was told to them at face value.
My final issue is Andi's addiction to pain pills. It didn't read as authentic as it should have been to make it believable. It read as more of a plot device than something that was really affecting the character. It read as if it was something thrown in to move Andi in and out of different positions that would move the story along. If she was not addicted to the pills, there would have been something more believable that would have done the same thing.
But on the other hand, I did  find the  story interesting enough to finish the book, I did like the characters and their relationship to each other.  I also liked the fact that the romance part of the story really did take a back seat to the main story thread.  Though the problems did stand a lot to me, enough to affect the rating, I would be interested in seeing where this series goes next.
Always Shine!