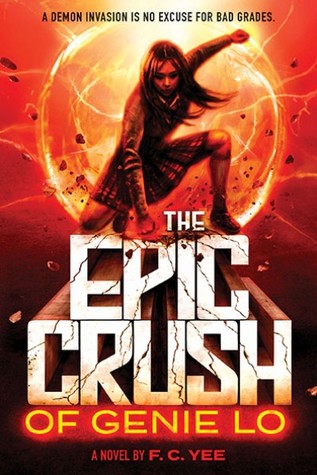 Featured Book of the Month: Epic Crush of Genie Lo by F.C. Yee
August 8, 2017 – Amulet Books
Purpose: Review
Source: Publisher, Netgalley
 5 stars
Goodreads Summary
I was given a digital copy of this title, free, in exchange for my honest opinion.
Genie Lo is your typical seventeen-year high school student. She studies extremely hard and is doing everything that she can to ensure that she can go to a top-tier school and get herself out of the Bay area. Then she meets, Quentin, a very strange new student who has set his eyes on her.  And the multitudes of demons that are trying to overtake her town. Quentin than begins to clue her in that there is more to her than meets the eye.
Okay, so the premise of a teen suddenly discovering that they have powers and are expected to become the savior of the world is not all that original. Do not let that deter you. Because this book is so much more than that. This book had me laughing out loud while reading this. Even if I was in public. Genie Lo is, by far, one of my favorite characters this year.  Her biting humor pulled me into her orbit, making me wish that she was a real person. Then there is Quentin, the monkey king has returned to Earth because of the increase of demon activity in the Bay Area and because he recognizes Genie Lo's aura. This story is steeped in Chinese folklore and culture. Sometimes discussing the culture, or the stereotypes of the culture with humor.  Genie Lo bumbles around destroying demons as she re-discovers her powers. Quentin is awkward initially, but we soon see it's just a ruse.  Genie's interactions with Quentin were hilarious and warm, like joking around with a long -time friend. He's an awful teacher, but a pretty decent friend. Even if he is a bit stalker-ish and creepy at times. It's okay because it's Quentin, and as you get to know him, this explanation makes sense.
In this story, the side characters had their own distinct personalities and added their own bits of humor.  They flow in and out of the story the same way that they flow in and out of Genie's life. But they are no less important. They make this book, Genie's purpose, a little more grounded.
This is one of the few books that impressed me and made me want to read it over immediately.  I wish that I had so many copies of this books so that I can hand it out to everyone I encounter. I am looking forward to this release so that I can add it to my own collection.
Since this is August's featured book, there will be other posts inspired by and related to Genie Lo. So stay tuned for those.
Always Shine!