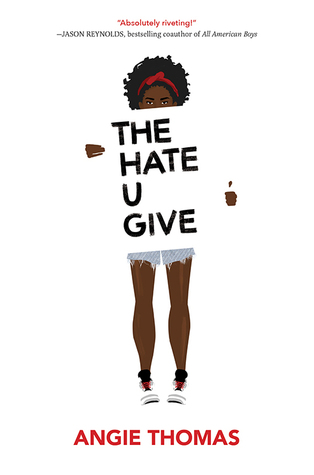 The Hate U Give by Angie Thomas 
February 28, ,2017 – Balzer & Bray
464p – Young Adult, Fiction, Contemporary
Purpose: Review, #offmybookshelf
Source: Edelweiss, Publisher, Bookshelf
5 stars
I was given a copy of this title, free, en exchange for my honest opinion. 
his is another book that talks about a white police officer shooting a black male. But make no mistake, it is also a book that stands out on its own. You have probably already heard of this book, as it came out and took the world by storm. I am not one that ever feels that a book deserves a bunch of hype, but in this case I can understand it. It is good for so many reasons, but it is not a perfect book. (I have yet to find one that is.)
Starr is at  party in her neighborhood when shots are fired. Her old friend, Khalil is there with her and quickly gets her out and safely away. While heading to her house or her father's store, they are pulled over by a white officer for  a busted headlight. While Starr is mentally reciting the lessons of how to behave when pulled over by the police, it is apparent that Khalil did not receive those lessons.  As the police is making his way to the car, Starr does ask if there is any drugs in the car. What could have simply been a routine stop quickly escalates into a homicide. This is due to both Khalil's mouthiness and the officer's fear/prejudice/choice.
**With the rising number of shootings, people -black people in particular- have been having conversations with their kids about what to do when you are pulled over by the police? Is it necessary? If you have taught your kids to be respectful of authority then no it's not. Because, regardless of your opinion of the police or your socio-economic circumstance the police are in a position of authority. EVEN IF YOU HAVE DONE NOTHING WRONG. I have been pulled over before and was told that I resembled a suspect that the police were looking for. No I didn't believe them, but I was still respectful. Sometimes, it's not about being right, it's about doing the right thing.**
Starr then struggles with how to reconcile what has happened, with the way the world reacts and how the police handle the situation. It's murder to Starr and every other black person that was not there that night. But the police do not see it as such. This brings up a lot of emotions, one that just didn't make much sense to me. She felt that by being with Chris, she was somehow betraying Khalil. After a year of dating, you're just not realizing that your boyfriend is white and now you think you're betraying your race? In reality, all of these feelings would have come up at the beginning of their relationships and not now, and they would have been resolved  by this point. Especially with Big Mav as a dad. So, I'm calling flag on the field.
**I am with a white man, I have two biracial babies. My dad always had something about white people. I did not go to a school that was dominantly white, but I was constantly the only black person around.  And before anyone thinks that you only date white guys cause that's all you're around, bull. It's a choice to date outside of your race-regardless of what your race is. It doesn't happen by accident, so you can't wake up one day and realize dude my boyfriend's white. Yes, there are some things that make the differences in race more apparent.  But I'm calling foul on Starr's sudden realization. **
As Starr deals with the loss of Khalil and with what the news is reporting about him, she is learnign that there is more to him than even she knew about. And she has to come to terms to that. At the same time the communities around her are reacting. Either by trying to figure how to deal with the anger and the hurt that they feel or by trying to get justice in a situation that is all too familiar to them.
This is bringing to light so many things for Starr, not just with her community, but with her family and her fellow classmates. She is learning so much,  she is learning to use her voice but most importantly, she is joining the conversation.
This book is powerful, not just because of the content of its pages. It is joining the conversation. It is lifting back the covers and giving the world an inside peek at how things really are -as much as  a work of fiction can. The Hate U Give acts as a window into Starr's story that is at once all to familiar and completely foreign-depending on a reader's own experiences.  Thomas does an amazing job in creating characters that are real and emotionally authentic.  She has taken a situation that is in itself already complex and controversial and pulled back to give 360• view of it. There's surprises. there's humor and there's truth. Truth about the pain, the anger and the feeling of being lost in your own world.
Always Shine!