I stopped doing wrap-ups a while ago, they are too long to do as blog posts. Or they had been. So then I started doing quarterly check-ins, highlighting my readings. Sometimes I would a bunch a books that were just okay, and so it seemed pointless to just say that over and over. But this month, books have been sort of a hit or miss with me. So I thought that I would check in now and talk about them. I want opinions on some the books.
What I've Read:
Shadowshaper (Shadowshaper#1)by Daniel Jose Older 5 stars– This was a re-read for me. I listened to this one on audio and enjoyed it just as much as I did the first time I read the book.
Archangel's Consort (Guild Hunter#3) by Nalini Singh 4 stars– This is one of those series that I randomly picked up and ended up really enjoying.  I liked this installment very much and can't wait for the next one.
Just a Kiss (Summer Harbor) by Denise Hunter 3.5 stars -This is the last in a trilogy, so a series that I was able to knock out before the end of the year. While this was not the best thing that I had read this year, it was refreshing and easy. It was a quick read and I still very much enjoyed it.  This is an old Netgalley title that I had, so a review will be posted shortly.
Currently Reading-
The Unleashing (Call of Crows) by Shelly Laurenston– I heard about this series from a Book Riot podcast, and immediately requested it from my library. I finally picked it up and I am surprised at how much I like it. I will be finishing it tonight, and I am pretty sure it's going to be 5 stars. The humor is what hooked me, along with the premise that it's about women tapping into and following their anger.  (Finished and loved it!)
Can't Help Falling by Kara Isaac– This is the second Isaac book that I've read. One that I immediately wanted when I finished Close to You. I am sad that it has taken me forever to pick up this title, as it is another that I have from Netgalley. But, I am happy to be reading it. It's a sweet romance with humor, and blunders and mistakes.  (Finished and loved it!)
Books that I've Not Yet Finished-  These are books that I've started but have set aside for one reason or another. Let me know if there is one that I definitely need to finish before I officially decide to DNF or not.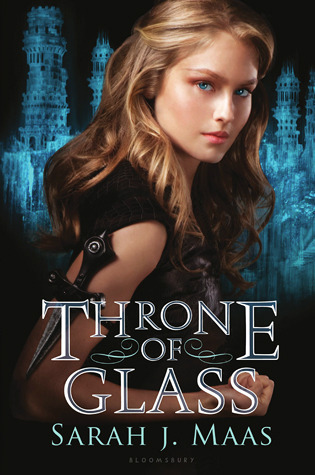 A Throne of Glass (A Throne of Glass #1) by Sarah J. Mass – This is a book that I am reading for my #offmybookshelf project. Honestly, this book isn't bad. But it also isn't very good. I mean, if I didn't have a million other things that I was dying to read I probably wouldn't mind reading it. But I've spent two weeks with this book and I am only halfway through it. Whereas, I picked up The Unleashed yesterday and I'm going to finish it tonight. Yes, I know that some books take longer to finish then others, but there's no reason it should take me this long to get through 400 pages.  If this was a library book, I'd dnf it and move on. My indecision comes from the fact that this is my book, and I own the next two plus the book of novellas.
A Memory of Whiteness by Kim Stanley Robinson- This was a Clarke Award Nominee, so it fits in my goal to read all of the Clarke and Nebula award nominees and winners. I have heard of Robin and had been meaning to read something of his. But, this book is a bit off putting. It is all about music, and I often find myself tuning out for paragraphs or pages at a time. From what I have read, it is a bit interesting, just not enough to hold my attention for a long time.
Warrior Women edited by Paula Guran-  I have no idea how I heard about this anthology. I know that as soon as I heard about it I requested it from the library. The first two stories grabbed my attention immediately. I stumbled through the third one and that was when my attention started to lag. This is one that I am pretty sure I'm coming back to at a different time.
Books I Dnf'd
Black Goat Blues (Red Right Hand #1) by Levi Black- To be honest, this is a series that I had been meaning to get to for a while – since the first book came out. But I didn't pck it up until I was selected to be a part of the blog tour. I started the first book,  Red Right Hand, fully expecting to enjoy it.  I didn't make a quarter into the book before I DNF'd it. It was too repetitive, I didn't like the character and the plot -at that point- was too vague for me to care. The only reason that I picked up the second book was because I was selected for the blog tour and they had already sent me a review copy. I did try to read it, depsite of what I thought about the first book. Unfortunately, I DNF'd the second book for pretty much the same reason I dnf'd the first one.
Rush Revere and the Brave Pilgrims by Rush Limbaugh-  I picked this book because I am looking for fun and interesting ways to introduce and teach history to my kids when we get there in homeschooling. I wanted to get multiple perspectives. But I made it to the middle of the second chapter before I put this one down. The main character just sounds pretentious, and there was too many flaws with the time-traveling aspect for me to take it serious.
Always Shine!